Our Beam gantries are designed as per standards to suit all Firescape make ladders. These are also supplied Internationally to Vehicle manufacturers who use alternative rescue ladders.
Our gantries can accommodate other equipment such as suction hoses and ancillary equipment.
Construction:
These gantries are built using the best all-round high tensile alloys and superior plating processes.
The gantry beams are powder coated. These are supplied in standard red, silver, white and, black colour.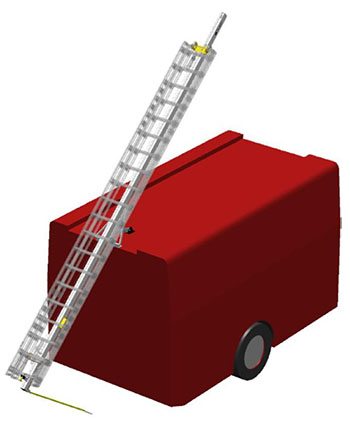 TECHNICAL SPECIFICATIONS Of LADDER GANTRY
| Sr. No. | Size | 7.5 DE | 7.5 TE | 10.5 DE | 10.5 TE | 13.5 DE | 13.5 TE |
| --- | --- | --- | --- | --- | --- | --- | --- |
| | | | | | | | |
| | | | | | | | |
| | | | | | | | |
| | | | | | | | |